About Us
Alborz is a Pizza takeaway in Wigan. Why don't you try our Kids Meal 3 or Samosa (3 Pieces)?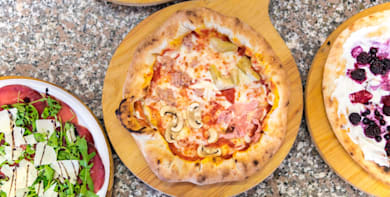 Reviews
516 reviews
Mark
"Great kebab, lovely chicken tikka and donner meat. Salad was fresh and the garlic mayo was brilliant. Would definitely order from here again."
07/05/2021
Kelle
"Cannot fault the food at all arrived piping hot and all tasted amazing ! Will def order again thank you . Food arrived 30 mins early too ."
06/05/2021
Mateusz
"Dont give me cola 2.5l"
03/05/2021
Ant
"Bang on time, hot and tasty Current favourite place to order from Pizzas, Kebabs and Burgers are top notch"
01/05/2021
Menu
Italian Burger Large
Cheese & pepperoni
£5.00
Italian Burger Small
Cheese & pepperoni
£4.00
Hawaiian Burger Large
Cheese & pineapple
£5.00
Hawaiian Burger Small
Cheese & pineapple
£4.00
Chicken Fillet Burger Large
£5.00
Chicken Fillet Burger Small
£4.00
Chilli Burger Large
Chilli sauce, onion & jalapeno
£5.00
Chilli Burger Small
Chilli sauce, onion & jalapeno
£4.00
American Burger Large
Fried onion
£5.00
American Burger Small
Fried onion
£4.00
Any Three Mixed Kebabs Naan
Mix of 3 meats in 1 kebab
£10.90
Any Three Mixed Kebabs Pitta
Mix of 3 meats in 1 kebab
£10.50
Any Two Mixed Kebabs Naan
Mix of 2 meats in 1 kebab
£9.00
Any Two Mixed Kebabs Pitta
Mix of 2 meats in 1 kebab
£8.50
Alborz Special Kebab Naan
Sliced donner meat, one skewer of shish, chicken, chicken tikka & vegetable, side salad & tub of chilli sauce
£16.00
Alborz Special Kebab Pitta
Sliced donner meat, one skewer of shish, chicken, chicken tikka & vegetable, side salad & tub of chilli sauce
£15.00
Farmhouse Special Kebab Two Naan
Sliced donner meat, one skewer of shish, chicken & vegetable, side salad, two pitta bread OR naan & tub of chilli sauce
£15.00
Farmhouse Special Kebab Two Pitta
Sliced donner meat, one skewer of shish, chicken & vegetable, side salad, two pitta bread OR naan & tub of chilli sauce
£14.00
Donner & Fries
Plain in a box
£6.50
Donner & Fries (Plain in a Box)
With everything on with salad, chilli sauce, sweetcorn relish, mayo & garlic mayo
£6.00
Cornetto 10" Deep
Chicken & sweetcorn
£8.00
Cornetto 10" Thin
Chicken & sweetcorn
£7.00
Cornetto 12" Deep
Chicken & sweetcorn
£11.00
Cornetto 12" Thin
Chicken & sweetcorn
£10.00
Donner 10" Deep
Donner meat & onions
£8.90
Donner 10" Thin
Donner meat & onions
£7.50
Donner 12" Deep
Donner meat & onions
£11.90
Donner 12" Thin
Donner meat & onions
£10.90
Garden Fresh 10" Deep
Tomato, sweetcorn, mushrooms, peppers & onions
£8.90
Garden Fresh 10" Thin
Tomato, sweetcorn, mushrooms, peppers & onions
£7.50
Garden Fresh 12" Deep
Tomato, sweetcorn, mushrooms, peppers & onions
£11.90
Garden Fresh 12" Thin
Tomato, sweetcorn, mushrooms, peppers & onions
£10.90
Four Seasons 10" Deep
A bit of everything
£8.90
Four Seasons 10" Thin
A bit of everything
£7.50
Four Seasons 12" Deep
A bit of everything
£11.90
Four Seasons 12" Thin
A bit of everything
£10.90
Hawaiian 10" Deep
Ham & pineapple
£8.00
Hawaiian 10" Thin
Ham & pineapple
£7.00
Hawaiian 12" Deep
Ham & pineapple
£11.00
Hawaiian 12" Thin
Ham & pineapple
£10.00
Hot & Spicy 10" Deep
Spicy beef, mixed peppers & onions
£8.00
Hot & Spicy 10" Thin
Spicy beef, mixed peppers & onions
£7.00
Hot & Spicy 12" Deep
Spicy beef, mixed peppers & onions
£11.00
Hot & Spicy 12" Thin
Spicy beef, mixed peppers & onions
£10.00
Miss Piggy 10" Deep
Ham & mushroom
£8.00
Miss Piggy 10" Thin
Ham & mushroom
£7.00
Miss Piggy 12" Deep
Ham & mushroom
£11.00
Miss Piggy 12" Thin
Ham & mushroom
£10.00
Meat Feast 10" Deep
All meat
£8.90
Meat Feast 10" Thin
All meat
£7.50
Meat Feast 12" Deep
All meat
£11.90
Meat Feast 12" Thin
All meat
£10.90
Mexican Feast 10" Deep
Beef, mixed peppers, onions & chillies
£8.90
Mexican Feast 10" Thin
Beef, mixed peppers, onions & chillies
£7.50
Mexican Feast 12" Deep
Beef, mixed peppers, onions & chillies
£11.90
Mexican Feast 12" Thin
Beef, mixed peppers, onions & chillies
£10.90
Pepperoni 10" Deep
Pepperoni & onions
£8.00
Pepperoni 10" Thin
Pepperoni & onions
£7.00
Pepperoni 12" Deep
Pepperoni & onions
£11.00
Pepperoni 12" Thin
Pepperoni & onions
£10.00
Pollo 10" Deep
Chicken & mushrooms
£8.00
Pollo 10" Thin
Chicken & mushrooms
£7.00
Pollo 12" Deep
Chicken & mushrooms
£11.00
Pollo 12" Thin
Chicken & mushrooms
£10.00
Salami Milano 10" Deep
Sliced salami & onions
£8.00
Salami Milano 10" Thin
Sliced salami & onions
£7.00
Salami Milano 12" Deep
Sliced salami & onions
£11.00
Salami Milano 12" Thin
Sliced salami & onions
£10.00
Seafood Special 10" Deep
Tuna & prawns
£8.90
Seafood Special 10" Thin
Tuna & prawns
£7.50
Seafood Special 12" Deep
Tuna & prawns
£11.90
Seafood Special 12" Thin
Tuna & prawns
£10.90
Shish Kebab Naan
Marinated skewers of lamb & 2 skewers
£8.50
Shish Kebab Pitta
Marinated skewers of lamb & 2 skewers
£7.50
Vegetarian Kebab Naan
Mushrooms, peppers, tomatoes & onions
£5.50
Vegetarian Kebab Pitta
Mushrooms, peppers, tomatoes & onions
£4.50
Tikka Kebab Naan
Marinated chicken breast
£8.50
Tikka Kebab Pitta
Marinated chicken breast
£7.50
Donner Kebab Naan
Minced lamb with seasoning from rotisserie
£7.00
Donner Kebab Pitta
Minced lamb with seasoning from rotisserie
£6.00
Chicken Kebab Naan
Marinated boneless chicken
£8.00
Chicken Kebab Pitta
Marinated boneless chicken
£7.00
6 Pieces BBQ Hot Wings Regular
£4.50
6 Pieces BBQ Hot Wings With Fries
£5.90
1 Piece Fried Chicken & Chips
£3.00
2 Pieces Fried Chicken & Chips
£4.90
Jacket Potato with Garlic Butter
£2.90
Garlic Mushrooms with Cheese
£5.50
Samosa (3 Pieces) Vegetable
£2.90
6 Pieces Chicken Hot Wings & Fries
£4.90
Chicken Nuggets & Fries 06 Pieces
£3.90
Chicken Nuggets & Fries 10 Pieces
£4.90
Chicken Hot Wings (6 Pieces)
£3.90
Garlic Bread with Pizza Sauce 10" Deep
£4.50
Garlic Bread with Pizza Sauce 10" Thin
£3.50
Garlic Bread with Pizza Sauce 12" Deep
£6.50
Garlic Bread with Pizza Sauce 12" Thin
£5.50
Bianco (Folded) 10" Deep
Garlic bread with cheese
£6.00
Bianco (Folded) 10" Thin
Garlic bread with cheese
£5.50
Bianco (Folded) 12" Deep
Garlic bread with cheese
£8.00
Bianco (Folded) 12" Thin
Garlic bread with cheese
£7.00
Ricotto (Folded) 10" Deep
Garlic bread with cheese & mushrooms
£6.50
Ricotto (Folded) 10" Thin
Garlic bread with cheese & mushrooms
£6.00
Ricotto (Folded) 12" Deep
Garlic bread with cheese & mushrooms
£8.50
Ricotto (Folded) 12" Thin
Garlic bread with cheese & mushrooms
£7.50
Kids Meal 1
4 Pieces chicken nuggets, chips & can
£4.50
Kids Meal 2
7" Cheese & tomato pizza with 2 toppings, chips & can
£5.50
Kids Meal 3
Donner wrap, chips & can
£5.90
Meal Deal 1
12" Pizza with 3 toppings, chips, onion rings & 2 drinks
£16.00
Meal Deal 2
16" Pizza with 3 toppings, chips, 09" garlic bread with cheese & 2 drinks
£19.00
Meal Deal 3
12" Pizza with 3 toppings, large donner portion, 12" garlic bread with cheese, chips & bottle of drink
£21.00
Party Pizza
16" Pizza with any 3 toppings & 09" garlic bread with cheese
£16.00
New to Alborz 1 10" Deep
Try our BBQ base pizza with 3 toppings
£8.50
New to Alborz 1 10" Thin
Try our BBQ base pizza with 3 toppings
£7.50
New to Alborz 1 12" Deep
Try our BBQ base pizza with 3 toppings
£11.50
New to Alborz 1 12" Thin
Try our BBQ base pizza with 3 toppings
£10.00
New to Alborz 2 Chicken Strip Wrap with Cheese & Fries
£6.00
New to Alborz 2 Donner Wrap & Fries
£5.50
New to Alborz 3 10" Deep
Calzone pizza with 2 toppings
£8.50
New to Alborz 3 10" Thin
Calzone pizza with 2 toppings
£7.50
New to Alborz 3 12" Deep
Calzone pizza with 2 toppings
£13.00
New to Alborz 3 12" Thin
Calzone pizza with 2 toppings
£11.00
Chicken Strips Wrap
Served with salad & mayo
£4.50
Contact Us
Find Us
71 Ormskirk Road, Wigan, WN59EA
We deliver to
PR6, WN1, WN2, WN3, WN4, WN5, WN6, WN8