About Us
Alborz is a Pizza takeaway in Wigan. Why don't you try our Kids Meal 3 or Samosa (3 Pieces)?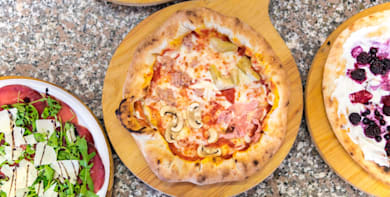 Reviews
488 reviews
Dee
"Use all the time garlic bread us amazing 🤤🤤🤤 fantastic service as always 5*"
06/06/2021
Joe
"The chicken tikka kebab we had was absolutely unreal! So tasty and the salad was really fresh"
06/06/2021
Dee
"Food piping hot and fresh, garlic bread is fantastic as always wont use anywere else 😍😍😍"
06/06/2021
Carolyn
"First time ordering. Really tasty food. Good service. Impressed will order again :)"
31/05/2021
Menu
Meal Deal 1
12" Pizza with 3 toppings, chips, onion rings & 2 drinks
£16.00
Meal Deal 2
16" Pizza with 3 toppings, chips, 09" garlic bread with cheese & 2 drinks
£19.00
Meal Deal 3
12" Pizza with 3 toppings, large donner portion, 12" garlic bread with cheese, chips & bottle of drink
£21.00
Party Pizza
16" Pizza with any 3 toppings & 09" garlic bread with cheese
£16.00
New to Alborz 1 10" Thin
Try our BBQ base pizza with 3 toppings
£7.50
New to Alborz 1 10" Deep
Try our BBQ base pizza with 3 toppings
£8.50
New to Alborz 1 12" Thin
Try our BBQ base pizza with 3 toppings
£10.00
New to Alborz 1 12" Deep
Try our BBQ base pizza with 3 toppings
£11.50
New to Alborz 2 Donner Wrap & Fries
£5.50
New to Alborz 2 Chicken Strip Wrap with Cheese & Fries
£6.00
New to Alborz 3 10" Thin
Calzone pizza with 2 toppings
£7.50
New to Alborz 3 10" Deep
Calzone pizza with 2 toppings
£8.50
New to Alborz 3 12" Thin
Calzone pizza with 2 toppings
£11.00
New to Alborz 3 12" Deep
Calzone pizza with 2 toppings
£13.00
Miss Piggy 10" Thin
Ham & mushroom
£7.00
Miss Piggy 10" Deep
Ham & mushroom
£8.00
Miss Piggy 12" Thin
Ham & mushroom
£10.00
Miss Piggy 12" Deep
Ham & mushroom
£11.00
Pepperoni 10" Thin
Pepperoni & onions
£7.00
Pepperoni 10" Deep
Pepperoni & onions
£8.00
Pepperoni 12" Thin
Pepperoni & onions
£10.00
Pepperoni 12" Deep
Pepperoni & onions
£11.00
Pollo 10" Thin
Chicken & mushrooms
£7.00
Pollo 10" Deep
Chicken & mushrooms
£8.00
Pollo 12" Thin
Chicken & mushrooms
£10.00
Pollo 12" Deep
Chicken & mushrooms
£11.00
Cornetto 10" Thin
Chicken & sweetcorn
£7.00
Cornetto 10" Deep
Chicken & sweetcorn
£8.00
Cornetto 12" Thin
Chicken & sweetcorn
£10.00
Cornetto 12" Deep
Chicken & sweetcorn
£11.00
Hawaiian 10" Thin
Ham & pineapple
£7.00
Hawaiian 10" Deep
Ham & pineapple
£8.00
Hawaiian 12" Thin
Ham & pineapple
£10.00
Hawaiian 12" Deep
Ham & pineapple
£11.00
Salami Milano 10" Thin
Sliced salami & onions
£7.00
Salami Milano 10" Deep
Sliced salami & onions
£8.00
Salami Milano 12" Thin
Sliced salami & onions
£10.00
Salami Milano 12" Deep
Sliced salami & onions
£11.00
Hot & Spicy 10" Thin
Spicy beef, mixed peppers & onions
£7.00
Hot & Spicy 10" Deep
Spicy beef, mixed peppers & onions
£8.00
Hot & Spicy 12" Thin
Spicy beef, mixed peppers & onions
£10.00
Hot & Spicy 12" Deep
Spicy beef, mixed peppers & onions
£11.00
Meat Feast 10" Thin
All meat
£7.50
Meat Feast 10" Deep
All meat
£8.90
Meat Feast 12" Thin
All meat
£10.90
Meat Feast 12" Deep
All meat
£11.90
Donner 10" Thin
Donner meat & onions
£7.50
Donner 10" Deep
Donner meat & onions
£8.90
Donner 12" Thin
Donner meat & onions
£10.90
Donner 12" Deep
Donner meat & onions
£11.90
Mexican Feast 10" Thin
Beef, mixed peppers, onions & chillies
£7.50
Mexican Feast 10" Deep
Beef, mixed peppers, onions & chillies
£8.90
Mexican Feast 12" Thin
Beef, mixed peppers, onions & chillies
£10.90
Mexican Feast 12" Deep
Beef, mixed peppers, onions & chillies
£11.90
Seafood Special 10" Thin
Tuna & prawns
£7.50
Seafood Special 10" Deep
Tuna & prawns
£8.90
Seafood Special 12" Thin
Tuna & prawns
£10.90
Seafood Special 12" Deep
Tuna & prawns
£11.90
Four Seasons 10" Thin
A bit of everything
£7.50
Four Seasons 10" Deep
A bit of everything
£8.90
Four Seasons 12" Thin
A bit of everything
£10.90
Four Seasons 12" Deep
A bit of everything
£11.90
Garden Fresh 10" Thin
Tomato, sweetcorn, mushrooms, peppers & onions
£7.50
Garden Fresh 10" Deep
Tomato, sweetcorn, mushrooms, peppers & onions
£8.90
Garden Fresh 12" Thin
Tomato, sweetcorn, mushrooms, peppers & onions
£10.90
Garden Fresh 12" Deep
Tomato, sweetcorn, mushrooms, peppers & onions
£11.90
Bianco (Folded) 10" Thin
Garlic bread with cheese
£5.50
Bianco (Folded) 10" Deep
Garlic bread with cheese
£6.00
Bianco (Folded) 12" Thin
Garlic bread with cheese
£7.00
Bianco (Folded) 12" Deep
Garlic bread with cheese
£8.00
Ricotto (Folded) 10" Thin
Garlic bread with cheese & mushrooms
£6.00
Ricotto (Folded) 10" Deep
Garlic bread with cheese & mushrooms
£6.50
Ricotto (Folded) 12" Thin
Garlic bread with cheese & mushrooms
£7.50
Ricotto (Folded) 12" Deep
Garlic bread with cheese & mushrooms
£8.50
Garlic Bread with Pizza Sauce 10" Thin
£3.50
Garlic Bread with Pizza Sauce 10" Deep
£4.50
Garlic Bread with Pizza Sauce 12" Thin
£5.50
Garlic Bread with Pizza Sauce 12" Deep
£6.50
Donner Kebab Pitta
Minced lamb with seasoning from rotisserie
£6.00
Donner Kebab Naan
Minced lamb with seasoning from rotisserie
£7.00
Shish Kebab Pitta
Marinated skewers of lamb & 2 skewers
£7.50
Shish Kebab Naan
Marinated skewers of lamb & 2 skewers
£8.50
Vegetarian Kebab Pitta
Mushrooms, peppers, tomatoes & onions
£4.50
Vegetarian Kebab Naan
Mushrooms, peppers, tomatoes & onions
£5.50
Chicken Kebab Pitta
Marinated boneless chicken
£7.00
Chicken Kebab Naan
Marinated boneless chicken
£8.00
Tikka Kebab Pitta
Marinated chicken breast
£7.50
Tikka Kebab Naan
Marinated chicken breast
£8.50
Any Two Mixed Kebabs Pitta
Mix of 2 meats in 1 kebab
£8.50
Any Two Mixed Kebabs Naan
Mix of 2 meats in 1 kebab
£9.00
Any Three Mixed Kebabs Pitta
Mix of 3 meats in 1 kebab
£10.50
Any Three Mixed Kebabs Naan
Mix of 3 meats in 1 kebab
£10.90
Farmhouse Special Kebab Two Pitta
Sliced donner meat, one skewer of shish, chicken & vegetable, side salad, two pitta bread OR naan & tub of chilli sauce
£14.00
Farmhouse Special Kebab Two Naan
Sliced donner meat, one skewer of shish, chicken & vegetable, side salad, two pitta bread OR naan & tub of chilli sauce
£15.00
Donner & Fries
Plain in a box
£6.50
Donner & Fries (Plain in a Box)
With everything on with salad, chilli sauce, sweetcorn relish, mayo & garlic mayo
£6.00
Alborz Special Kebab Pitta
Sliced donner meat, one skewer of shish, chicken, chicken tikka & vegetable, side salad & tub of chilli sauce
£15.00
Alborz Special Kebab Naan
Sliced donner meat, one skewer of shish, chicken, chicken tikka & vegetable, side salad & tub of chilli sauce
£16.00
Chicken Fillet Burger Small
£4.00
Chicken Fillet Burger Large
£5.00
Italian Burger Small
Cheese & pepperoni
£4.00
Italian Burger Large
Cheese & pepperoni
£5.00
Hawaiian Burger Small
Cheese & pineapple
£4.00
Hawaiian Burger Large
Cheese & pineapple
£5.00
Chilli Burger Small
Chilli sauce, onion & jalapeno
£4.00
Chilli Burger Large
Chilli sauce, onion & jalapeno
£5.00
American Burger Small
Fried onion
£4.00
American Burger Large
Fried onion
£5.00
Jacket Potato with Garlic Butter
£2.90
1 Piece Fried Chicken & Chips
£3.00
2 Pieces Fried Chicken & Chips
£4.90
Chicken Strips Wrap
Served with salad & mayo
£4.50
6 Pieces BBQ Hot Wings Regular
£4.50
6 Pieces BBQ Hot Wings With Fries
£5.90
Chicken Nuggets & Fries 06 Pieces
£3.90
Chicken Nuggets & Fries 10 Pieces
£4.90
Chicken Hot Wings (6 Pieces)
£3.90
6 Pieces Chicken Hot Wings & Fries
£4.90
Samosa (3 Pieces) Vegetable
£2.90
Garlic Mushrooms with Cheese
£5.50
Kids Meal 1
4 Pieces chicken nuggets, chips & can
£4.50
Kids Meal 2
7" Cheese & tomato pizza with 2 toppings, chips & can
£5.50
Kids Meal 3
Donner wrap, chips & can
£5.90
Contact Us
Find Us
71 Ormskirk Road, Wigan, WN59EA
We deliver to
PR6, WN1, WN2, WN3, WN4, WN5, WN6, WN8